edu x tech fesでトークしてきました。
紹介した作品を貼っておきます
(時間が30分と限られていたため
紹介できなかった作品群も以下に貼っておきます。
interactive video
Nike RISE "House of Mamba"(2014 )

NHK Cup Figure skate(2013)

2012 NHK TROPHY / ARIGATO SKATING from GEKITEKI on Vimeo.
Yesyesno + Daito Manabe "Night Lights" (2009)

night lights from zach lieberman on Vimeo.
eyetoy play(2000年発表、2004年リリース)

Camille Utterback and Romy Achituv "text rain" (1999)

Myron Krueger "Videoplance" (1972- )

location based game
ingress (2012)
https://www.ingress.com/intel
Blast theory "Can you see me now?" (2001~

big data mining/visualization
NHK Professional (2014)
http://professional.rzm.co.jp/
Perfume Music Player (2013)
http://www.perfume-web.jp/cam/LEVEL3/app/
Perfume Tokyo Dome Live Intro(2013)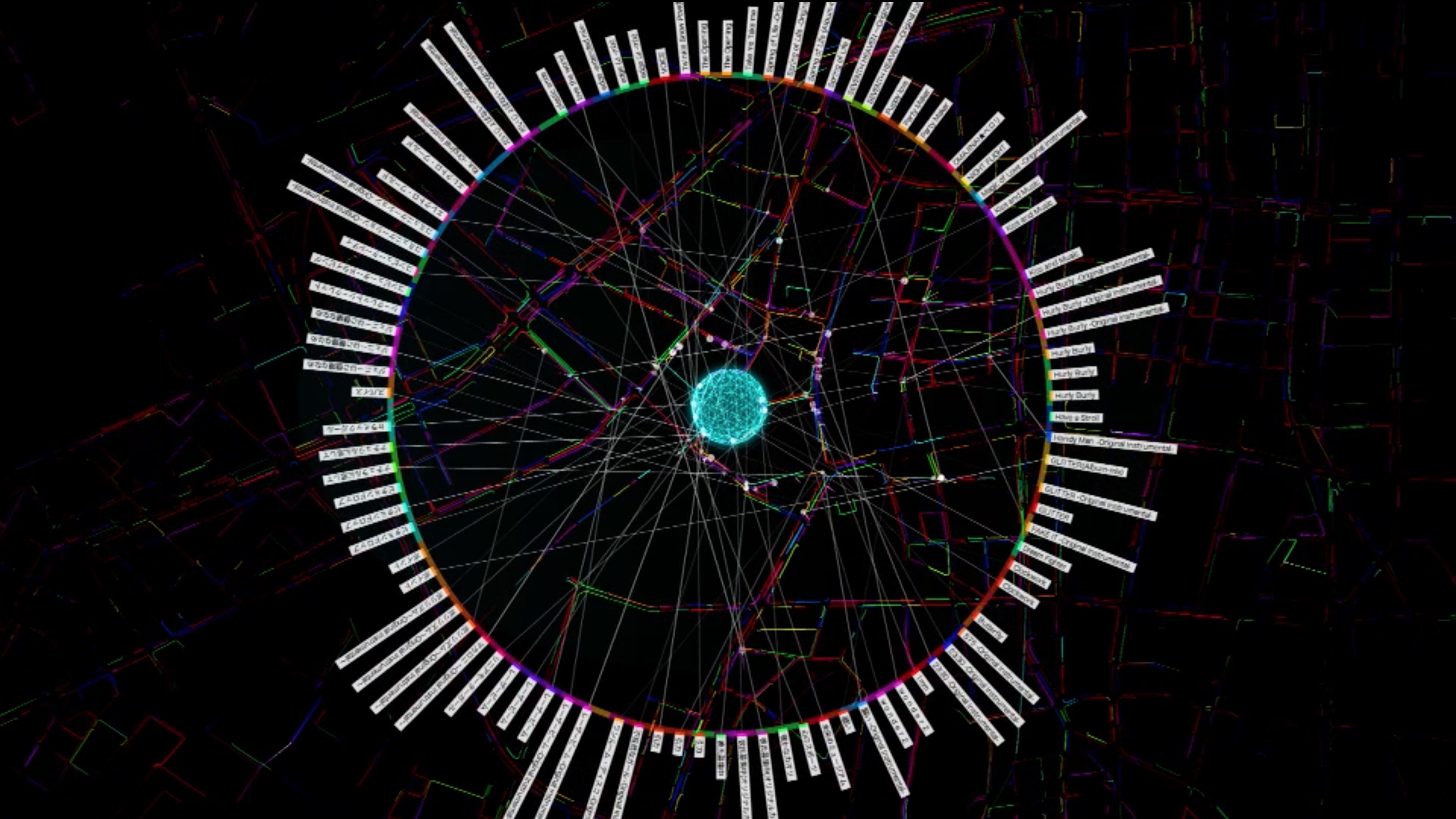 Perfume Sleeping Beauty (2013)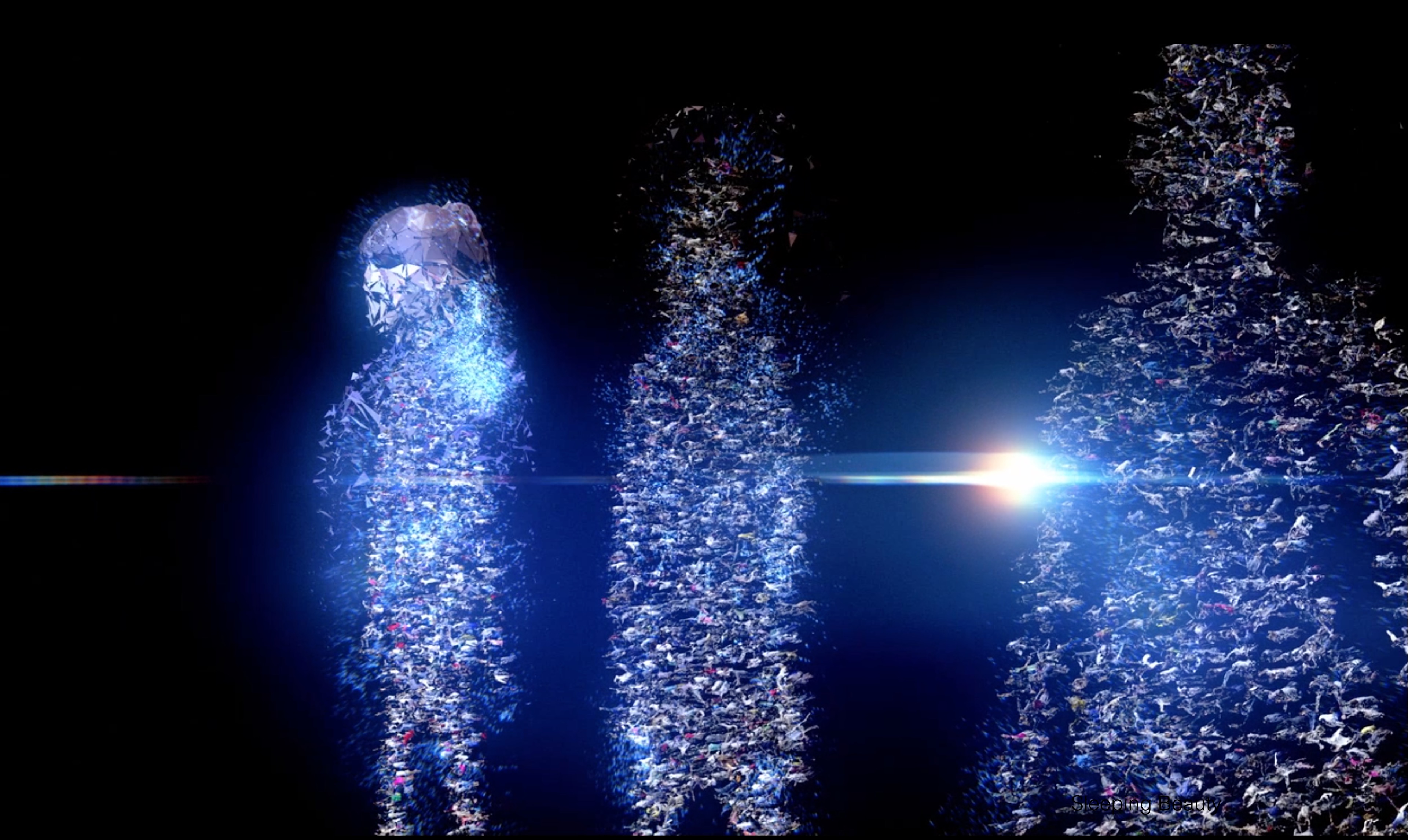 Aaron Koblin "Flight Pattern" (2006)

Golan Levin, Jonathan Feinberg, Shelly Wynecoop and Martin Wattenberg
"The Secret Lives of Numbers"(2002)
http://www.flong.com/projects/slon/

mobile phone
Usman Haque
Sky ear(2007)
風船にLED+マイコン+携帯電話+電磁波センサをつけて、
電話をすると電磁波が変化して風船のLEDの色が変わる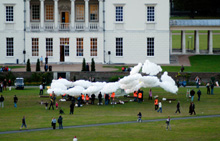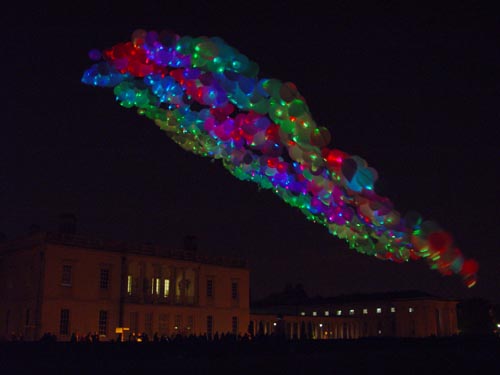 Burble London from haque d+r on Vimeo.
Rafael Lozano Hemmr
Amodal Suspension(2003)
携帯電話でサーチライトの点滅を制御
94カ国から40万を越えるアクセス
(630万のサーバリクエスト)

Golan Levin, Gregory Shakar, Scott Gibbons, Yasmin Sohrawardy, Joris Gruber, Erich Semlak, Gunther Schmidl, and Joerg Lehner
Dialtones: A Telesymphony(2001)
観客が持つ携帯電話をステージからコントロール

Dialtones: A Telesymphony (Excerpts, 2001) from Golan Levin on Vimeo.
conflicted perspective
reCAPTCHA(2007)
http://ja.wikipedia.org/wiki/ReCAPTCHA
Ryota Kuwakubo "PLX" (2001)
http://www.ntticc.or.jp/Archive/2007/Openspace2007/art_technology/plx.html
Internet of things
Usman Haque "pachube"(2009)
http://pachube-jp.blogspot.jp/
http://www.haque.co.uk/pachube.php
Daito Manabe + Motoi Ishibashi "sonic floor"(2007)
公共スペースに設置したインタラクティブインスタレーションの
センサのデータをサーバに送って二次利用する実験
http://www.daito.ws/work/sonic-floor.html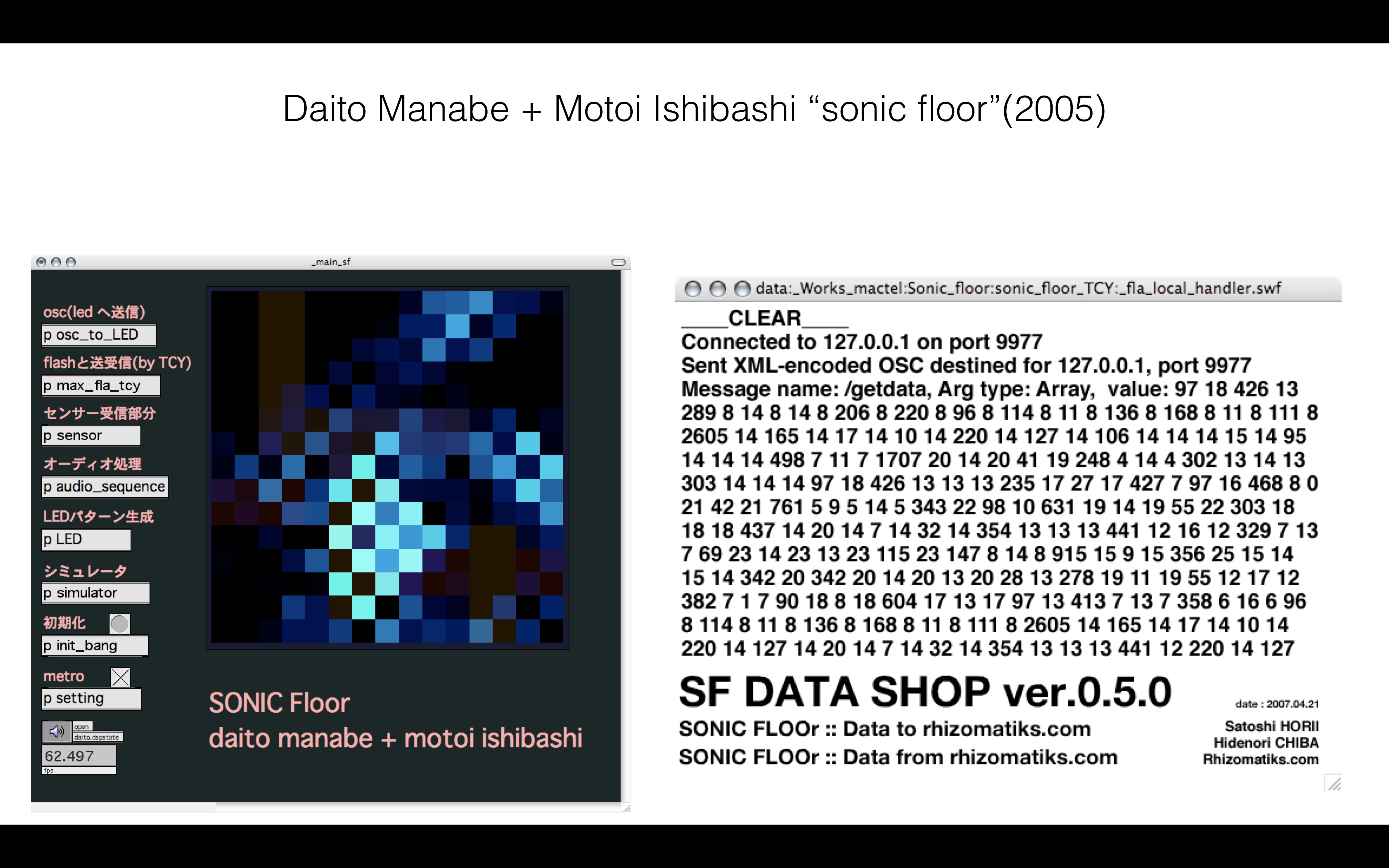 digital earth
google earth(2001, 2005 ~ )
https://www.google.co.jp/intl/ja/earth/
art+com "teravision" (1996)

internet community
Ken Goldberg "Telegarden"(1995)

http://goldberg.berkeley.edu/garden/Ars/
Art as Living System
Christa Sommerer & Laurent Mignonneau A-Volve (1994)

http://www.ntticc.or.jp/Archive/2006/Openspace/art_technology/a-volve_j.html
Artificial Realty
Myron W. Krueger
"Ants Alive Artificial Reality Game"

VR
Jeffrey Shaw
"Legible City, Responsive Environment" (1988-91)

Morton Heilig Sensorama(1957!)

http://en.wikipedia.org/wiki/Sensorama
http://en.wikipedia.org/wiki/Jeffrey_Shaw
——————————————-
冒頭紹介したNIKEやフィギュアスケートのインタラクティブ映像はライゾマティクス、YesyesnoのNight Lightsはメディアアート的なアプローチで行った
大規模な広告、エンターテイメントプロジェクト。
テクノロジー、インタラクションのアイディアは枯れたものだけれど
美術館の中でやるのとは違ったチャレンジがあったと思う。
ただ、ニューメディアアートは10年経たないと社会に実装できないようなものを提案し、
美術館や研究所のような特殊な環境で実験することに意義があるように思うので
上記のプロジェクトはメディアアートではないのかなぁ。
(おそらくほとんどの人にとってはどっちでもいいのだろうけれど。。
あと仕組みとコンテンツの問題は、
"木を積んで組み立てて何かを作る積み木という遊びを発見/発明する" か、
"積み木を使ってすごい構造、オブジェtを作る" か、というような違いがある気がする。
映像と人のインタラクションは全く一緒で2Dの映像がリッチな3D映像に変わっただけって
いうのは積み木の素材が木からアルミに変わった程度にしか思えない部分もあり、
最先端っていう冠が付いてしまうのはなんだかなと思うわけです。
メディアアートという言葉が最近はインタラクティブ映像インスタレーションを
指すようになってきて、それ自体はしょうがない気もしますが
メディアアーティスト達がどれだけ未来を予見して来たかということを
知るとさらに楽しめると思います。ので、ICCをちょこちょこチェックしに行くことを
オススメします。